We live during a time where virtually every dish can be made plant-based, even the most classic of comfort foods, like mac n' cheese, fried rice, and brownies. But this can feel overwhelming to people just learning to cook plant-based. Here are five simple tips for beginners.
1. Use the same seasonings and garnishes
Newly plant-based people often realize that what they actually enjoyed about animal foods were the seasonings they used to prepare them. Meat and fish are, more often than not, just a "vehicle" for flavor. However you spiced and herbed your old meat dishes can be applied to plant-based ones, as can cooking techniques like marinading, barbecuing, charring, etc. For example, check out our BBQ Chickpea and Carrot Sliders or our Tempeh Bacon.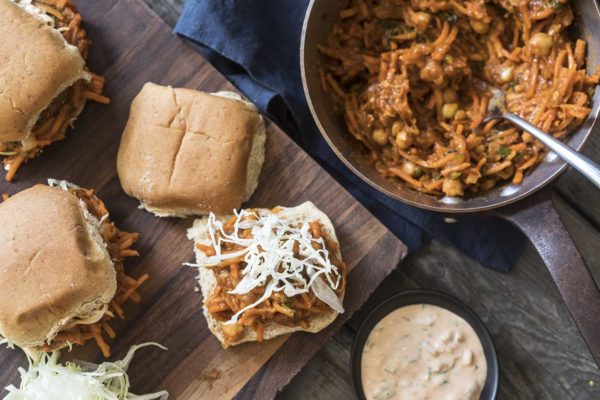 2. You don't have to make everything from scratch
While some people prefer to make all of their meals, many people simply don't have the time. There's no right or wrong, only what works best for you and your schedule. If pre-made sauces, dressings and plant-based alternatives keep your meal-stresses to a minimum, then go for it. This also means when you do spend time in the kitchen, it'll be preparing the meals you're the most pumped about.
3. Sneak in extra fruits and vegetables by blending or pureeing them
If you and/or your family aren't huge fans of fruits and veggies, try pureeing them into soups or blending them into smoothies. Our Green Energy Smoothie packs in banana, berries, spinach and kale, but all you'll notice is how delicious it tastes.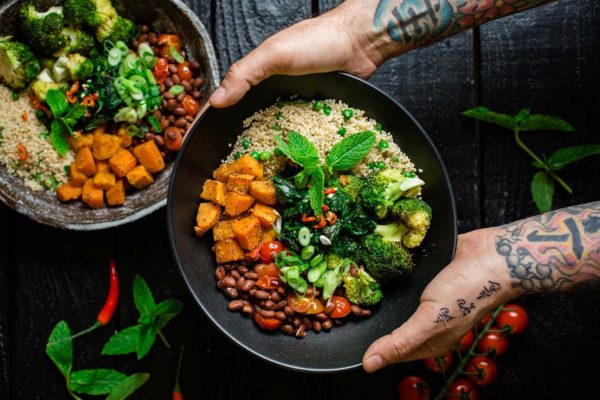 4. BYOB (Build Your Own Bowls)
Bowls are a delicious, healthy and easy meal to add into your rotation. You can prep all the elements on Sunday nights for ready-to-go lunches, or throw a bowl together quickly for a simple yet satisfying supper. The key is to mix it up with different grains, greens and spices each week. Use our Quinoa Bowl with Roasted Sweet Potatoes and Black Beans as a "template" and go from there.
5. Explore Instagram, Pinterest and blogs for plant-based meal ideas and inspiration
For most people, plant-based eating means opening up a whole new world of flavors, textures, colors and combinations. While this may seem daunting at first, plant-based eating has become so popular that there is something for everyone, no matter what kind of food you love the most. Look around for the sites that appeal to you. Of course, our Recipes section is a good place to start. If you're active on Instagram or Twitter, follow certain hashtags so your feed is always full of meal inspiration. (We suggest: #EatLikeAGameChanger and #PlantBasedRecipes and #VeganRecipes)