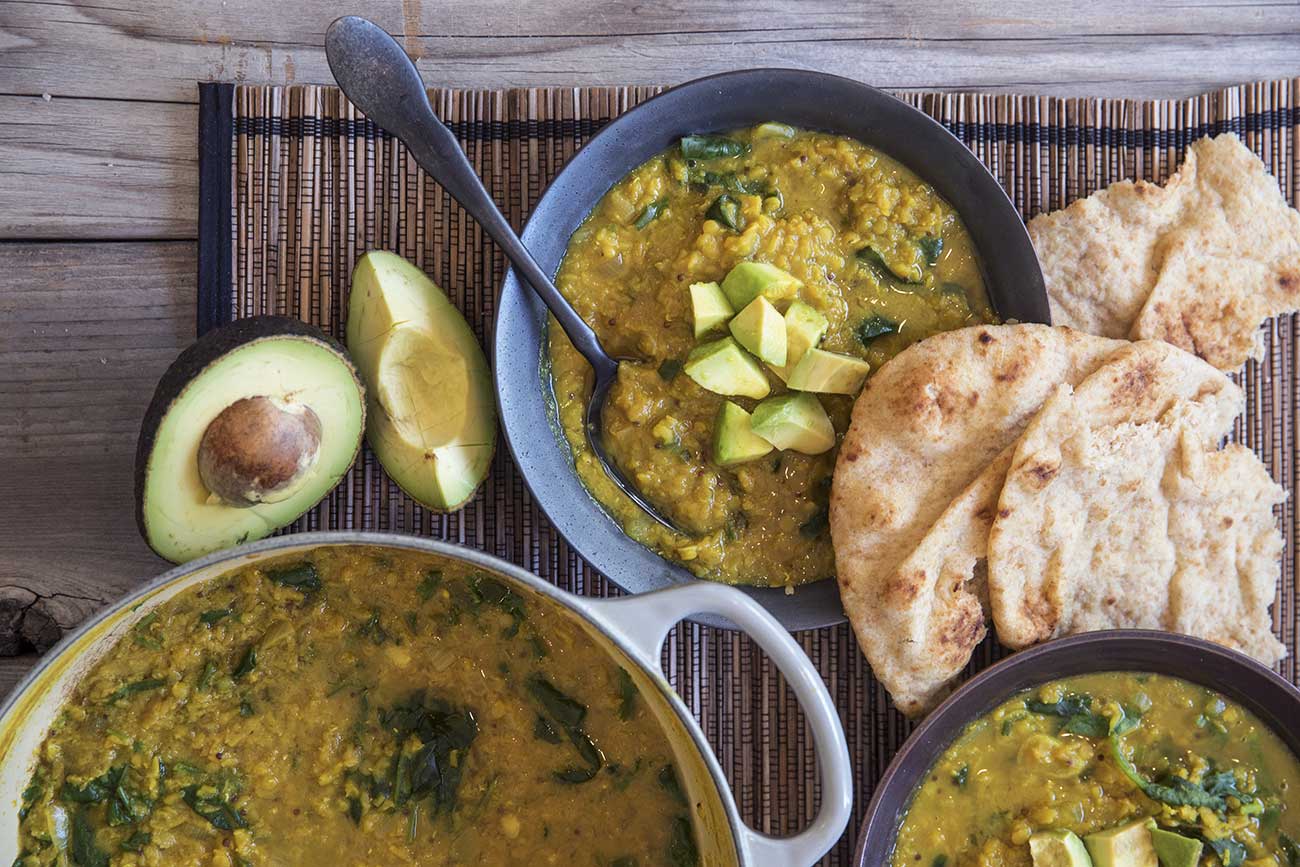 2 teaspoon olive oil, or 1/4 cup additional vegetable stock if sautéing without oil
1 small onion, diced
1 tablespoon black mustard seeds
2 teaspoons cumin powder
2 teaspoons turmeric
4 cloves garlic, sliced thin
1 small red chile, minced (optional)
2 cups red lentils or yellow mung dhal
8 cups low sodium vegetable stock
1 cup unsweetened plant milk of choice
2 teaspoons sea salt, optional/to taste
3 cups baby spinach or chopped and stemmed kale
Handful fresh cilantro, chopped for garnish
Whole grain bread, or Naan of choice
1 avocado, cubed for garnish (optional)
Put a heavy-bottom soup pot over medium to high heat.
Add the oil or vegetable stock, followed by the onions. Allow to sauté for a few minutes until aromatic and translucent. (If omitting oil, jump to the next step and add spices/onions to dry pan.)
Add mustard, cumin, turmeric, garlic, and chile. Allow to cook, stirring constantly to avoid burning, for about 3 minutes. (If you have not used oil at this point, add 1/4 cup vegetable stock to deglaze pan).
Lower heat to low-medium and add the lentils. Stir well for 1 minute and add the vegetable stock and sea salt. Put on lid.
Bring to a simmer and reduce to low heat, continuing to cook for about 15-18 minutes. The dahl will begin to breakdown and 'melt', causing the soup to start thickening up.
Add the plant milk and simmer for about 10 more minutes. Season with a bit more sea salt as needed. Remove from heat.
Add the chopped greens and stir, allowing the greens to 'cook' in the hot soup until serving.
Ladle a generous amount into each bowl, top with cilantro, avocado and serve with you favorite whole grain seeded bread or naan.
Nutrition Facts
Amount Per Serving
Total Carbohydrate:
91.1g
KICK UP THE PROTEIN! Add 1/2 cup diced Baked Tofu, raw tofu or Tempeh Bacon to each soup when serving with the avocado. Be sure to serve this with whole grain seeded bread!
Nutrition Facts
Amount Per Serving
Total Carbohydrate:
91.1g