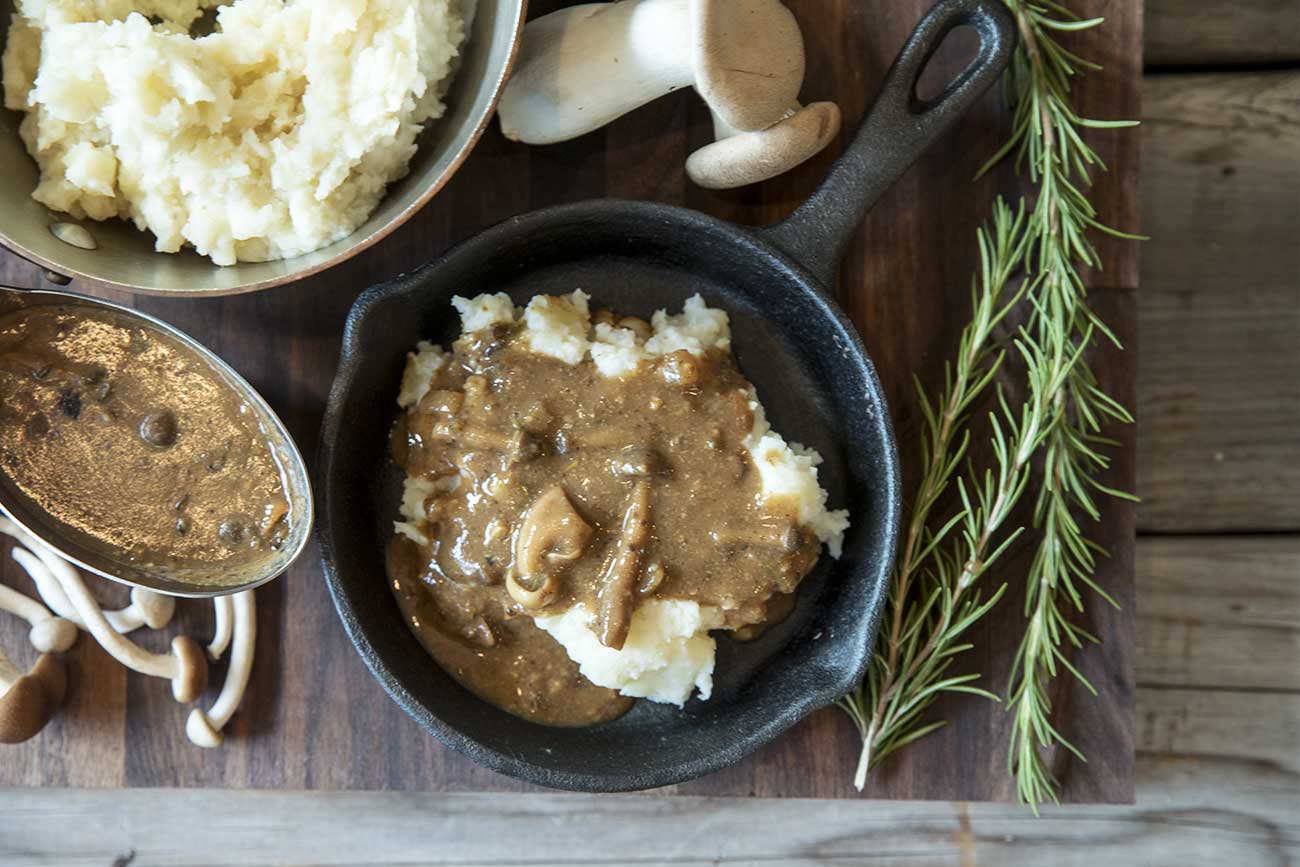 1 teaspoon olive oil
4 cloves of garlic, minced
1 medium white onion, diced
1 cup mushrooms of choice, gently cleaned with a towel and chopped
3/4 cup dried mushroom of choice, ground into a mince (using a blender, coffee or spice grinder)
2 tablespoons minced thyme
3 sprigs of rosemary, stemmed and minced
1/2 cup Marsala wine (or dry white wine as alternative)
4 cups vegetable stock (low sodium preferred)
1 tablespoon maple syrup
2 tablespoons whole grain flour (any kind)
3 tablespoons nutritional yeast
2 tablespoons tamari or soy sauce (preferably low sodium)
Freshly ground black pepper, to taste
1 teaspoon sea salt, (optional)
In a shallow pot or large sauté pan on medium heat, add the oil, garlic, and onion. Stir until the garlic and onions are translucent.
Add the fresh mushrooms, rosemary, and thyme and continue to sauté for a few minutes, until they begin to stick.
Add the wine to deglaze the pan and cook for a few minutes. Add the stock and dried mushrooms and stir, bringing to a simmer. Simmer for about 10 minutes.
In a bowl, mix the flour, nutritional yeast, and soy sauce to make a slurry.
Slowly add the slurry to the stock. Bring the gravy to a simmer on medium to medium-high heat, stirring constantly for about 2 minutes.
Add salt and pepper to taste.
Kick up the protein by pulsing 1 cup of white beans and adding them to the gravy.
Serve this gravy alongside our other featured holiday recipes, including Thanksgiving Roast, mashed potatoes, oat & lentil "meat loaf", etc.